Standard Pallet Configurations
Four Way Entry Runner Pallet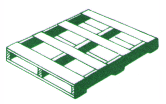 Two Way Entry Runner Pallet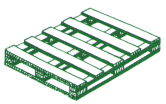 Full Four Way Entry Block Pallet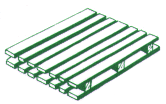 Full Four Way Entry Double Wing Block Pallet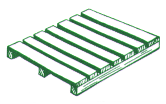 Two Way Entry Single Face Runner Pallet
Custom Pallet Configurations
SCP Inc. has the ability to manufacture any wood packaging your company needs. Not only common and standard size needs, but also custom low volume items. Any size, configuration, and specification your company may need, we're here to help!
Establishing Criteria for Pallet Specification
To reduce costs and ensure the protection of the unit load, pallet users should establish criteria for pallet specifications and we can help. Here is a list of items to consider in the developing and quoting of your wood packaging.
Size and description: 2-way and 4-way
Schematic drawing with dimensions and component placement
Dimensions:

Top deck, bottom deck, stringer or block and stringer board
Length x Width x Thickness
Number of components

Nails: Needed to secure deck to stringer or block
Materials: Allowable lumber species, Minimum lumber grades, Moisture content of lumber
Performance Requirements: Load weight requirements, Maximum pallet deflection, Pallet Durability, Equipment capability (rack-able, conveyable, forklift and pallet jack entry)
Destination: Domestic or International